By H. Michael Steinberg Colorado Criminal Defense Lawyer – Attorney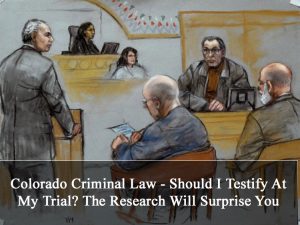 Colorado Criminal Law – Should I Testify At My Trial? The Research Will Surprise You – One of the most difficult decisions in any Colorado criminal trial is the decision whether to testify or not to testify on your own behalf.
This decision to testify or not to testify is uniquely the Defendant's – not the lawyer's, the judge's or the prosecutor's. Understanding the way juries think about a Defendant's decision to NOT testify at trial is critical. A Defendant must have all of the variables necessary to make an informed decision as to whether the risk of testifying is worth it.