How Do Colorado Police Officers "Clear" A Criminal Investigation?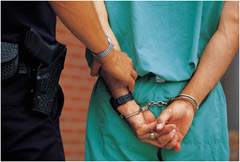 By H. Michael Steinberg – Colorado Criminal Defense Lawyer – Attorney – Email
Many alleged victims of crime file charges with the various Colorado police departments – then they wait.
The following information explains how the police terminate or "complete" those investigations.

What Does "Cleared By Arrest" Mean In Colorado?
A Colorado criminal investigation is officially "cleared by arrest" or solved for crime reporting purposes when a minimum of one person is:
arrested,
charged with the commission of the offense, and
turned over to the court for prosecution (whether following arrest, court summons, or police notice-to-appear).
Even if no physical arrest is made, a "clearance by arrest" designation is permitted when the suspect is a juvenile – that is – under 18 years of age and is cited to appear in Colorado juvenile court or before other juvenile authorities.
FBI statistics put approximately half of the nation's violent crimes and 16-18 percent of nonviolent crimes as cleared by arrest.
What Then Does The Term "Cleared By Exceptional Means" Mean In Colorado?
Under certain facts, there are times when certain elements – beyond law enforcement's control – prevent the agency from arresting and formally charging the offender. If and when this occurs, the police are allowed to "clear the offense exceptionally."
Four conditions must be met in order to clear a criminal investigation by "exceptional means."
They are:
The identification of the offender.
Enough evidence has been gathered to support an arrest, make a charge, and turn over the offender to the court for prosecution.
The offender's exact location has been identified so that the suspect can be taken into custody immediately. and
Law Enforcement has encountered a circumstance outside their control that prohibits the agency from arresting, charging, and prosecuting the offender.
Some Examples Of Exceptionally Cleared Cases
The death of the offender (e.g., suicide or justifiably killed by police or citizen);
A victim's refusal to cooperate with the prosecution after the offender has been identified;
A refusal of an extradition request because the offender committed a crime in another jurisdiction and is being prosecuted for that offense.
If you are the target of a criminal investigation – what follows are some of the laws that will govern how you "enter" the system.
How You "Enter" The Colorado Criminal Justice System
The Colorado criminal justice system is a very complex process that is controlled and governed by specific laws – what follows are some of those controlling laws. Here is a link to a website that can serve as a source to read and study these laws – the Colorado Revised Statutes.
The Arrest: C.R.S. 16-3-101 through 16-3-102
A peace officer may arrest a person when there is a warrant commanding that the person be arrested, any crime has been or is being committed by such person in the peace officer's presence, or the peace officer has probable cause to believe that the offense was committed by the person to be arrested.
The Summons: C.R.S. 16-5-206 through 16-5-207
This is a notice requiring a person to appear in court on a specific day at a specific time. The summons is returned to the court to document that the person was served with it.
Pre-trial alternatives – Pre-trial investigation C.R.S. 16-4-105(3)
Pre-trial service programs in the District Attorney's office establish procedures for screening arrested persons. The programs provide information to the judge to assist in making an appropriate bond decision. The programs may also include different methods and levels of community based supervision as a condition of pretrial release. It is at this stage that the judge decides what, if any, pretrial release is appropriate.
Jail C.R.S. 17-26-101
Lawfully committed persons and prisoners are housed in a county jail for detention,
Being Released On Your Own Recognizance (PR – OR Bonds) C.R.S. 16-4-104 through 16-4-105
A defendant may be released from custody upon execution of a personal recognizance bond which is secured only by the personal obligation of the defendant.