Colorado Criminal Law – Post Verdict Bail Now Denied In Certain Domestic Violence Cases
By H. Michael Steinberg Colorado Domestic Violence Criminal Defense Lawyer – Attorney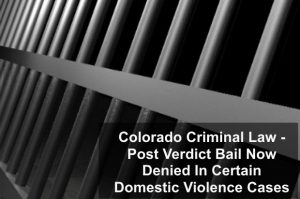 Colorado Criminal Law – Post Verdict Bail Now Denied In Certain Domestic Violence Cases – The denial of bail in Colorado occurs only in the most extreme criminal cases and usually under the most extreme circumstances.
That list of crimes now that include the denial of bail following conviction in certain criminal cases will expand on August 9, 2019 to include certain Colorado Domestic Violence convictions such as Felony Stalking.
When and how this can occur is addressed in this 2017 blog update.
The Right To Bail Conviction In Colorado
Whether your case involves a plea or goes to trial – the right to remain in bail (free) pending the typical six to eight weeks before you are sentenced following the conviction, -is denied in only a very limited number of cases…. called "exceptions."
Under the "old" law, bail could be denied to a person convicted of certain violent crimes following conviction but the law gave Colorado judges could decide whether or not to grant bail between conviction and sentencing in all cases other than the list of exceptions below and that list did not include felony stalking or other domestic violence.
That list of crimes is found in a Colorado Law – identified as 16-4-201.5 (2017):
Colorado Revised Statutes § 16-4-201.5
The New Law – The Changes To The Right To Bail Following A Conviction
In 2017, the Colorado State Legislature enacted House Bill 17-1150 that adds additional crimes to the denial of bail after conviction up to the date of sentencing to the old list. This new law applies to certain very specific Colorado domestic violence and Felony Stalking cases.
The new law compels the Trial Judge to revoke bail after a conviction for a Felony Act of Domestic Violence. Specifically a conviction for a second or subsequent act of stalking – domestic violence under 18-6-801(7) (habitual domestic violence offender) or the crime of stalking where there has been in place a temporary or permanent restraining order.
that were separately brought and tried and arising out of separate criminal episodes.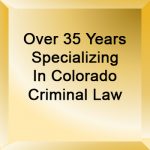 ABOUT THE AUTHOR: H. Michael Steinberg – Email The Author at:
A Denver Colorado Criminal Defense Lawyer – or call his office at 303-627-7777 during business hours – or call his cell if you cannot