A 2018 Colorado Pardons Update – An Unexpected Change Of Heart By The Governor
By H. Michael Steinberg Colorado Criminal Defense Lawyer – Attorney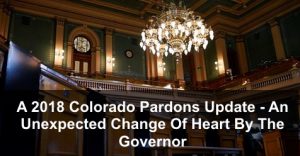 A 2018 Colorado Pardons Update – An Unexpected Change Of Heart By The Governor – Afrer nearly seven years in office, Colorado's Governor Hickenlooper begins to grant ever larger numbers of executive pardons. This article looks at the Colorado pardon laws and process and provides some insights into the how pardons actually work.
First – Understand The Colorado Laws Applying To Governor Pardons
A Governor's pardon – also known as clemency, is a constitutionally authorized executive act of by a governor to extend mercy to a person who has committed a crime. Decisions to grant or to deny clemency are among the most difficult issues a governor can face. The grant of clemency restores the convicted felon's civil rights and that forgiveness can have major implications for the kind of "second chance" that can totally change the convicted felon's life.
The Colorado Governor Gives His Reasons Why He Granted Some Pardons And Not Others
To understand our Governor – Colorado Governor Hickenlooper's thinking – that is the rationale that underlies his decisions to grant or deny clemency – one should read what he has said and written on the subject. For example by studying his speeches and letters to those persons fortunate enough to receive a pardon from the governor one gains, in my opinion, solid insights into the Governor reasoning when he does grant a Colorado pardon.
I recommend the reader carefully parse all of the following quotations from the Governor by following this link:
Understanding The Direct Impact Of A Felony Conviction On….
The Loss Of The Right To Vote
Under Colorado law, a person convicted of a felony loses the right to vote if sentenced to a prison term, and does not regain it until completion of parole. Colo. Const. art. 7, §10
A person shall not be eligible to vote while confined in any public prison, but that right is restored (the rights of citizenship) after serving out the full term of imprisonment. Col. Rev. Stat. § 1-2-103(4).
This "disenfranchisement" of the right to vote continues through a period of parole. Col. Rev. Stat. § 1-2-103(4) "No person while serving a sentence of detention or confinement in a correctional facility, jail, or other location for a felony conviction or while serving a sentence of parole shall be eligible to register to vote or to vote in any election.".
If a convicted felony is sentenced to a term of probation only that person does NOT lose the right to vote.
The Loss Of The Right To Hold Public Office
Under Colorado law, a person convicted of a felony are disqualified from public office only while incarcerated, or while on parole from a prison sentence, Col. Rev. Stat. § 18-1.3-401(3).
The Loss Of The Right To Sit On A Jury
A person convicted of a felony MAY sit on a jury (as of 1989).
The Loss Of The Right To Bear, Possess, Or Own Firearms
One of the most severe punishments for those who cherish the right to bear arms is the prohibition against owning and or possessing firearms. Unless pardoned, a convicted felony may not purchase, own or possess firearms. Col. Rev. Stat. § 18-12-108(1), (2).
Furthermore, it is a felony for a felon to possess a weapon and that penalty – for the illegal possession – is enhanced if possession occurs within ten years of conviction or release from supervision, for burglary, arson, or any felony involving violence. § 18-12-108(2)(c).
Understanding The Laws Underlying Colorado Governor's Authority To Grant Executive Pardon
The Colorado Governor's power to provide "clemency" is regulated by Colo. Rev. Stat. §§ 16-17-101 and 102.
The Practical Application Of The Procedures Used By The Governor To Review Pardon
On the petitioner's side, the pardon process can be difficult. It involves a lengthy application and the submission of persuasive evidence of change and growth. From the Governor's side it also involves careful deliberation, the extensive review of the petitioner's materials provided, and and the input from persons involved – stakeholders – such as victims, judges, prosecutors, and others.
While the Governor has the complete auhority to make this decision alone and must report pardons to legislature, with his reasons. On the other hand, there are eligibility restrictions; no public hearing and he is required by law to seek the views of corrections authorities as noted, the DA, and Judge.
The Governor is advised by the Colorado Executive Clemency Advisory Board which is established within the Office of the Governor of Colorado and consists of seven members appointed by the governor. The members include the Executive Director of the Corrections Department, the Executive Director of the Department of Public Safety, and one crime victim representative.
This Board meets at least once every six months. The Board may makes recommendations for a pardon on clemency applicants who have completed their sentences and can demonstrate they are fully rehabilitated and reintegrated into society.
The News – The Change In Governor Hickenlooper's Pardon Posture – More Pardons Being Granted
As of November 20, 2017, Colorado Governor Hickenlooper had granted 23 pardons since taking office in 2012. Most of those pardons have taken place as his term in office nears it's close. The pace of the Governor's pardons is increasing steadily.
The Governor – as has been reported by this writer in the recent past – granted very few pardons during his first six years in office. Essentially the Governor was very stingy with his "pardoning power."
The readers of this article may take encouragement to try for a Governor's pardon in Colorado because of this recent change in the Colorado Governor's approach to clemency.
A 2018 Colorado Pardons Update – An Unexpected Change Of Heart By The Governor
If you found any of the information I have provided on this web page article helpful please click my Plus+1 or the Share buttons for Twitter and Facebook below so that others may locate it. Take care.