A 2018 Colorado Pardons Update – An Unexpected Change Of Heart By The Governor
By H. Michael Steinberg Colorado Criminal Defense Lawyer – Attorney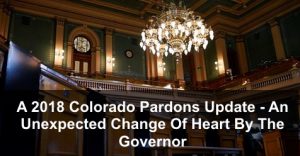 A 2018 Colorado Pardons Update – An Unexpected Change Of Heart By The Governor – Afrer nearly seven years in office, Colorado's Governor Hickenlooper begins to grant ever larger numbers of executive pardons. This article looks at the Colorado pardon laws and process and provides some insights into the how pardons actually work.
First – Understand The Colorado Laws Applying To Governor Pardons
A Governor's pardon – also known as clemency, is a constitutionally authorized executive act of by a governor to extend mercy to a person who has committed a crime. Decisions to grant or to deny clemency are among the most difficult issues a governor can face. The grant of clemency restores the convicted felon's civil rights and that forgiveness can have major implications for the kind of "second chance" that can totally change the convicted felon's life.
The Colorado Governor Gives His Reasons Why He Granted Some Pardons And Not Others
To understand our Governor – Colorado Governor Hickenlooper's thinking – that is the rationale that underlies his decisions to grant or deny clemency – one should read what he has said and written on the subject. For example by studying his speeches and letters to those persons fortunate enough to receive a pardon from the governor one gains, in my opinion, solid insights into the Governor reasoning when he does grant a Colorado pardon.
I recommend the reader carefully parse all of the following quotations from the Governor carefully:
After careful review, today I granted 22 pardons to individuals who have taken great strides to improve their lives and their communities. In many cases, they have overcome significant obstacles. Some of their criminal actions resulted from a drug addiction, some from youthful indiscretion, some from difficult childhoods or family situations, and some for reasons even they do not understand. All come from different walks of life and have a unique story to tell.

Too often, though, they struggle to find meaningful work and fully untangle themselves from their criminal histories. This decision gives them that chance. Hopefully, it will be a little easier for them to rent an apartment and put food on the table; walk into a job interview knowing they will get a fair shot; volunteer in their children's schools; and live out their final years with peace of mind.

This decision in no way lessens the impact their crimes had on others. My staff and I have taken this process very seriously and looked carefully at every case. The clemency process creates important opportunities and gives a second chance to someone who committed a crime at a very young age.

The process involves lengthy deliberation, extensive review of the materials provided, and careful consideration of input from victims, judges, prosecutors, and others. We have great respect for the prosecutors and judges who were involved in these cases and now see how these people have lived their lives since their convictions. Some have proven themselves in extraordinary ways, others have faced serious life consequences because of infractions they committed when they were young.

The 22 people I am pardoning today serve as an example that redemption is possible. I believe they will use this opportunity to continue improving their lives, raising families, and being productive members of their communities. They have earned the opportunity for a second chance.
In short …..
Someone who's committed a crime oftentimes when they are much younger. And I think sometimes our criminal justice system of punishment can be almost counterproductive when you see people who have spent 20 or 30 — in some cases 40 — years living exemplary lives, and yet it is still is nagging them.
In a letter individually drafted to each of the offenders who were granted a pardon – the Governor wrote:
I am doing so because you have demonstrated your commitment to moving past your criminal history and starting anew, while taking with you the lessons you have learned throughout your life.
Understanding The Direct Impact Of A Felony Conviction On….
The Loss Of The Right To Vote
Under Colorado law, a person convicted of a felony loses the right to vote if sentenced to a prison term, and does not regain it until completion of parole. Colo. Const. art. 7, §10
A person shall not be eligible to vote while confined in any public prison, but that right is restored (the rights of citizenship) after serving out the full term of imprisonment. Col. Rev. Stat. § 1-2-103(4).
This "disenfranchisement" of the right to vote continues through a period of parole. Col. Rev. Stat. § 1-2-103(4) "No person while serving a sentence of detention or confinement in a correctional facility, jail, or other location for a felony conviction or while serving a sentence of parole shall be eligible to register to vote or to vote in any election.".
If a convicted felony is sentenced to a term of probation only that person does NOT lose the right to vote.
The Loss Of The Right To Hold Public Office
Under Colorado law, a person convicted of a felony are disqualified from public office only while incarcerated, or while on parole from a prison sentence, Col. Rev. Stat. § 18-1.3-401(3).
The Loss Of The Right To Sit On A Jury
A person convicted of a felony MAY sit on a jury (as of 1989).
The Loss Of The Right To Bear, Possess, Or Own Firearms
One of the most severe punishments for those who cherish the right to bear arms is the prohibition against owning and or possessing firearms. Unless pardoned, a convicted felony may not purchase, own or possess firearms. Col. Rev. Stat. § 18-12-108(1), (2).
Furthermore, it is a felony for a felon to possess a weapon and that penalty – for the illegal possession – is enhanced if possession occurs within ten years of conviction or release from supervision, for burglary, arson, or any felony involving violence. § 18-12-108(2)(c).
Understanding The Laws Underlying Colorado Governor's Authority To Grant Executive Pardon
The Colorado Governor's power to provide "clemency" is regulated by Colo. Rev. Stat. §§ 16-17-101 and 102.
The Source Of The Colorado Executive Pardon Authority
The Colorado Governor's pardon authority power is vested in the governor by the Colorado constitution and is, "subject to such regulation as may be prescribed by law relative to the manner of applying for pardons." Colo. Const. art. IV, § 7.
Colo. Rev. Stat. § 16-17-102 provides the procedures that must be followed in the pardon process:
After a conviction, all applications for commutation of sentence or pardon for crimes committed shall be accompanied by a certificate of the respective superintendent of the correctional facility, showing the conduct of an applicant during his confinement in the correctional facility, together with such evidences of former good character as the applicant may be able to produce.

Before the governor approves such application, it shall be first submitted to the present district attorney of the district in which the applicant was convicted and to the judge who sentenced and the attorney who prosecuted at the trial of the applicant, if available, for such comment as they may deem proper concerning the merits of the application, so as to provide the governor with information upon which to base his action.
The governor shall make reasonable efforts to locate the judge who sentenced and the attorney who prosecuted at the trial of the applicant and shall afford them a reasonable time, not less than ten days, to comment on such applications. Favorable recommendations must receive the support of at least four Board members.
The Practical Application Of The Procedures Used By The Governor To Review Pardon
On the petitioner's side, the pardon process can be difficult. It involves a lengthy application and the submission of persuasive evidence of change and growth. From the Governor's side it also involves careful deliberation, the extensive review of the petitioner's materials provided, and and the input from persons involved – stakeholders – such as victims, judges, prosecutors, and others.
While the Governor has the complete auhority to make this decision alone and must report pardons to legislature, with his reasons. On the other hand, there are eligibility restrictions; no public hearing and he is required by law to seek the views of corrections authorities as noted, the DA, and Judge.
The Governor is advised by the Colorado Executive Clemency Advisory Board which is established within the Office of the Governor of Colorado and consists of seven members appointed by the governor. The members include the Executive Director of the Corrections Department, the Executive Director of the Department of Public Safety, and one crime victim representative.
This Board meets at least once every six months. The Board may makes recommendations for a pardon on clemency applicants who have completed their sentences and can demonstrate they are fully rehabilitated and reintegrated into society.
What Is The "Effect" Of A Colorado Governor's Pardon?
Colo. Rev. Stat. § 16-17-103, enacted in 2013, provides that:
A pardon issued by the governor shall waive all collateral consequences associated with each conviction" unless the pardon limits the scope.
A Colorado Pardon:
Restores civil rights, including but not limited to voting, jury service, holding public office and reinstatement of firearms privileges;

Assist with licensing, certification or employment requirements;

Recognize meritorious educational or vocational achievement;

Reward exceptional or extraordinary citizenship.
Will You Qualify For A Colorado Governor's Pardon?
Good character previous to conviction, good conduct during confinement in the correctional facility, the statements of the sentencing judge and the district attorneys, if any, and any other material concerning the merits of the application shall be given such weight as to the governor may seem just and proper, in view of the circumstances of each particular case, a due regard being had to the reformation of the accused. Colo. Rev. Stat. § 16-17-102.
The News – The Change In Governor Hickenlooper's Pardon Posture – More Pardons Being Granted
As of November 20, 2017, Colorado Governor Hickenlooper had granted 23 pardons since taking office in 2012. Most of those pardons have taken place as his term in office nears it's close. The pace of the Governor's pardons is increasing steadily.
The Governor – as has been reported by this writer in the recent past – granted very few pardons during his first six years in office. Essentially the Governor was very stingy with his "pardoning power."
The readers of this article may take encouragement to try for a Governor's pardon in Colorado because of this recent change in the Colorado Governor's approach to clemency.
Summary Of The Impact Of A Felony Conviction In Colorado And The Impact Of A Governor's Pardon
One of the best ways to determine whether your petition for a Colorado Governor's pardon has any chance of success is to study the kinds of cases the Governor has pardoned to date. What follows is a list of the most recent crimes pardoned by Governor Hickenlooper:
The charge, year of the offense, and the county:
Conspiracy to commit possession and distribution of marijuana, 1986, El Paso County.
Felony burglary, 1963, La Plata County.
Distribution of a controlled substance, 1991, Larimer County.
Second-degree burglary, 1984, El Paso County.
Felony burglary, 1969, Larimer County.
Criminal attempt to commit the sale of a controlled substance, 1999 Larimer County.
First-degree criminal trespassing, 2005 Adams County.
Criminal mischief, second-degree burglary, criminal attempt to extreme indifference to murder, aggravated motor vehicle theft, aggravated juvenile offender, violation of bail bond and menacing with a deadly weapon, 1994, Mesa County.
Attempted distribution of a controlled substance, 1989, El Paso County.
Possession of a controlled substance, 1998, Adams County.
Possession of a controlled substance, 1994, Larimer County.
Possession of a controlled substance, 2003, El Paso County.
Second-degree assault, 1978, Larimer County.
Possession of 8 ounces or more of marijuana, 1998, Jefferson County.
Misdemeanor assault, 2003, Larimer County.
Misdemeanor harassment, 2003, Larimer County.
Possession of a controlled substance, 1992, Adams County.
A 2018 Colorado Pardons Update – An Unexpected Change Of Heart By The Governor
If you found any of the information I have provided on this web page article helpful please click my Plus+1 or the Share buttons for Twitter and Facebook below so that others may also find it.
The contents of this article are based upon my research, my personal experience and my personal analysis and opinions developed from my thirty six years (as of 2018) of criminal trial experience from both sides of the courtroom – as a former career prosecutor for Arapahoe and Douglas Counties (13 years) and as the owner of my own Criminal Defense Law Firm since 1999 (19 years).
The reader is also admonished that Colorado criminal law, like criminal law in every state and at the Federal level, changes constantly. The article appearing above was accurate at the time it was drafted but it cannot account for changes occurring after it was uploaded.
If, after reading this article, you have questions about your case and would like to consider retaining our law firm, we invite you to contact us at the Steinberg Colorado Criminal Defense Law Firm – 303-627-7777.
Never stop fighting – never stop believing in yourself and your right to due process of law. You will not be alone in court, H. Michael will be at your side every step of the way – advocating for justice and the best possible result in your case. H. Michael Steinberg is passionate about criminal defense. His extensive knowledge and experience of Colorado Criminal Law gives him the edge you need to properly handle your case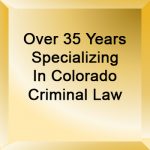 ABOUT THE AUTHOR: H. Michael Steinberg – Email The Author at:
A Denver Colorado Criminal Defense Lawyer – or call his office at 303-627-7777 during business hours – or call his cell if you cannot wait and need his immediate assistance – please call 720-220-2277.
"A good criminal defense lawyer is someone who devotes themselves to their client's case from beginning to end, always realizing that this case is the most important thing in that client's life."
You should be careful to make a responsible choice in selecting a Colorado Criminal Defense Lawyer. We encourage you to "vet" our firm. Over the last 36 plus years – by focusing ONLY on Colorado criminal law – H. Michael has had the necessary time to commit to the task of constantly updating himself on nearly every area of criminal law, to include Colorado criminal law and procedure and trial and courtroom practice.
Putting more than 36 years of Colorado criminal defense experience to work for you.
H. Michael works hard to get his clients the best possible results in and out of the courtroom. He has written, and continues to write, extensively on Colorado criminal law and he hopes this article helps you in some small way – A 2018 Colorado Pardons Update – An Unexpected Change Of Heart By The Governor.