Colorado Law Mandating Employer Leave For Domestic Violation Charges Encourages False Allegations 24-34-402.7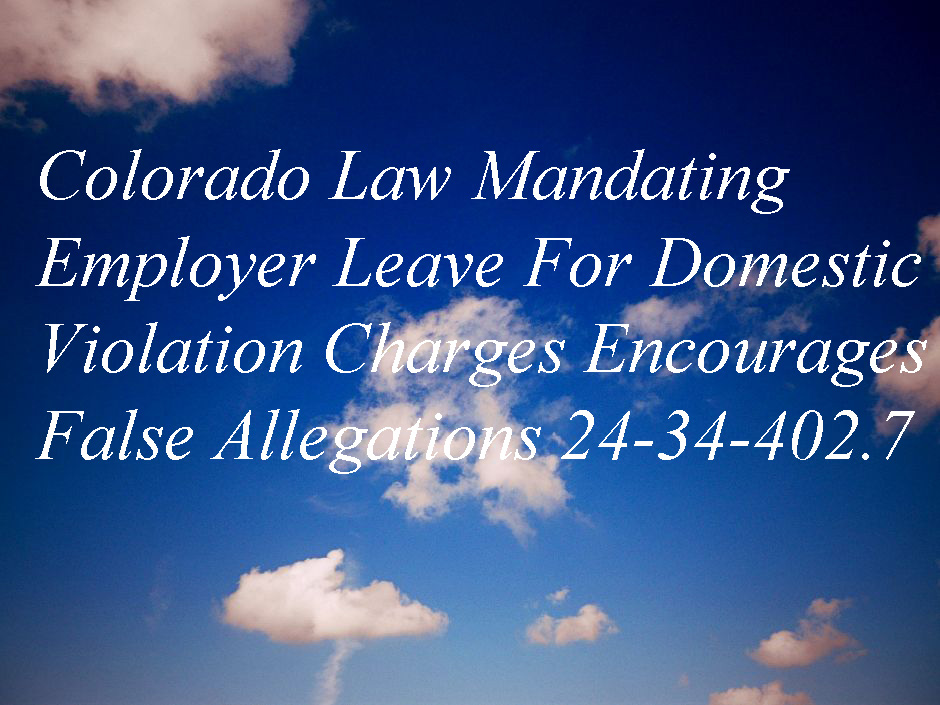 by H. Michael Steinberg Author, Colorado Domestic Violence Criminal Defense Lawyer and Litigator – Email the Author at hmsteinberg@hotmail.com
Quietly a few years ago Colorado enacted a "domestic violence leave law" allowing for up to three days of leave from work for persons (almost always women) who are alleged victims of domestic violence, sexual assault, or stalking. Fortunately the law only applies to employers with more than 50 employees.
This quiet new law also encourages the employers of these women to obtain civil restraining orders against the alleged perpetrators.
Only a minority of states have domestic violence leave laws.
Why Colorado's Domestic Violence "Leave Law" Is Wrongheaded
More and more each year – domestic violence and sexual assault laws are treated differently than other kinds of crimes. The rationale is to make up for years of abusive treatment by males in the system who were unwilling to believe the alleged victims of these crimes.
The pendulum for the last several decades has swung so far to the left that alleged sexual assault and DV victims are believed in wholesale fashion.
The Law Also Allows For Employer Based Restraining Orders – CRS Section 13-14-102
The law allows employers legal standing to seek a restraining order with – or without the permission of the alleged victim involved. The law also allows employers to obtain a civil restraining order if they can show some form of "imminent danger" of violence from any aggressor.
How Does The Law Define The Kind Of "Domestic Abuse" That Triggers The Law?
The law defines "domestic abuse," as:
ANY ACT OR THREATENED ACT OF VIOLENCE that is committed by any person against another person to whom the actor is currently or was formerly related, or with whom the actor is living or has lived in the same domicile, or with whom the actor is involved or has been involved in an intimate relationship. "Domestic abuse" may also include any act or threatened act of violence against the minor children of either of the parties.
Many Options For The Alleged Victim
The alleged victim of an act of domestic abuse can take the leave for 4 reasons:
(1) to obtain a restraining order;

(2) to obtain medical care, including mental health care, for the employee or his or her children;

(3) to make the "home secure" or to seek "new housing"; and
(4) to seek "legal assistance" and to attend or prepare for "court-related proceedings" related to the domestic violence.
What The Law Does NOT Do
CRS Section 24-34-402.7 does not allow alleged victims to use leave to go to the police station to file police reports or to prepare or to sign statements for the police.

Domestic Violence Leave Can Be Paid Or Unpaid As The Employer Chooses
The employer can decide whether domestic abuse leave will be "with or without pay." The employer can require the alleged victim to first exhaust paid leave such as vacation, sick leave, and or personal days before receiving domestic violence leave.
Conclusion:
The Colorado Domestic Abuse Law means yet another tool for the use of the criminal justice system to promote over blown or exaggerated claims of domestic violence. Large employers are required to give these alleged victims time off from work to further exploit a system that already "bends over backwards" to believe any and all claims of abuse – mental or physical – from the mouths of the complaining alleged victims.