By H. Michael Steinberg Colorado Criminal Defense Lawyer – Attorney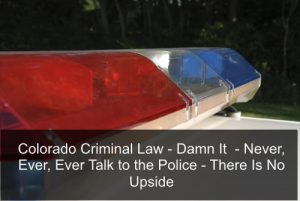 Colorado Criminal Law – Damn It – Never, Ever, Ever Talk to the Police – There Is No Upside – It is incredible why so many people under investigation insist on telling their story to the police – naively believing that they are helping their case. The truth is this – never, ever, ever talk to the police after you have identified yourself.
When a police officer tells you he is there to "get to the truth," – the "truth" is the police see themselves as part of the prosecutor's team…. not your team.