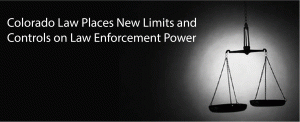 By H. Michael Steinberg Colorado Criminal Defense Lawyer
On June 19, 2020, Colorado Governor Jared Polis signed into law Senate Bills 20 -217, a sweeping police accountability bill and SB 20 – 127 is otherwise referred to as An Act Enhance Law Enforcement Integrity (the Act).
The new law, enacted in the wake of the George Floyd murder, – Colorado Senate Bill SB 20-217 has, and will have, a massive impact on the Colorado law enforcement community. The new Act (Act) has different effective dates – different provisions are effective on different dates from 2021 – to 2023.