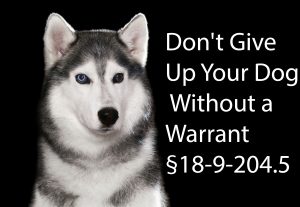 Guest Blog Post by Kristina Bergsten, Esquire of The Animal Law Firm
At The Animal Law Firm, our Colorado animal lawyers see a lot of good dogs turned over to animal control under pressure from animal control officers. However, you do not have to do this. They are required, under the 4th Amendment to the United States Constitution, to obtain a warrant to seize property from you.
If your dog is accused of violating Colorado's Unlawful Ownership of a Dangerous Dog statute, make them get a warrant to take your dog from you. Don't give up your dog.