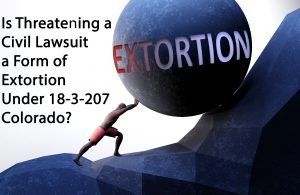 By H. Michael Steinberg Colorado Criminal Defense Lawyer
It is common for threats of civil lawsuits to have the impact of a kind of extortion. Typically, one side blusters and threatens the other side with a lawsuit that will "destroy them" if they don't settle in a way that is acceptable to the party making the threats.
The question is raised as to whether the person making this kind of threat is committing the crime of extortion. To answer that question, a close analysis of the complex crime of extortion is needed.